A BRIEF HISTORY OF OUR PARISH
by Steve Rodakis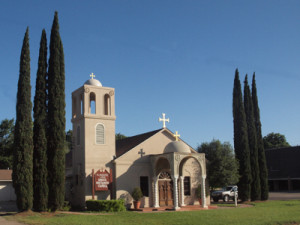 We are, we Americans, a nation of immigrants. We are people who came to a new world seeking freedom from oppression and opportunities for economic fulfillment. From Pilgrims in Massachusetts to French Huguenots in Monroe, America's 200-year history is filled with examples of people united by their beliefs, starting with little or nothing material but willing to work hard to achieve a measure of respectability and success. The founders and early members of this parish belonged to such immigrant communities. Political and economic refugees from the Balkans, Eastern Europe, and the Middle East, these Orthodox Christians left persecution and war back home–often with little more than clothes on their back–to come to this country and begin a new life.
Throughout the 1940s Orthodox Christians in this area went to Shreveport for their church services, baptisms, and weddings. Then, in 1951, a group of about twenty Monroe families purchased a house on 1104 North Fourth Street with the hope of converting it into a church when a priest could be found. In the fall of 1952 Father Spyridon Markopoulos arrived to serve the budding community and to celebrate the first Orthodox liturgy in Monroe. By 1953 the Fourth Street house had been paid off, and there was talk of fulfilling the dream of many an immigrant group: the building of a church.
Things moved quickly. Our current Forsythe Street property was acquired in 1954 and construction began immediately on the church. Father Spyridon, Mr. Kokkinos, and Mr. Primos must have kept the contractor's feet to the fire, for by August the church was finished and the first liturgy was celebrated there. The first baptism, that of Kosta Kolokouris, was held in November of that year.
The enthusiasm of the parishioners was contagious; individuals donated pews, chandeliers, icons. Many non-Orthodox friends pitched in and the little church was soon furnished in proper Orthodox fashion. In 1956 the community was confident enough to play host to a three-state district convention of AHEPA, which was attended by over 350 people. And soon the city of Monroe became acquainted with old-world traditions: the Good Friday procession outside the church, the Grecian dinners, Easter bread, and baklava.
In 1960 the parish house was built; the community center with its prominent kitchen was constructed in 1971 and expanded in 1977. And in November of 1979 another milestone was reached with the arrival of the first American-born priest to serve the church, Father David Buss.
In the late 1980s the parish undertook a program to replace the older icons, which had been done in the realistic Italianate style popular in the early part of this century. Diamantis Cassis, an Orthodox iconographer originally from Galaxidi, Greece and who grew up in Shreveport, was commissioned to prepare a whole new set in the traditional Byzantine style. Each icon was donated by a parishioner in an unprecedented example of giving.
New furnishings of carved wood replaced the older, simply-crafted ones, and the church interior took on a whole new look. A hailstorm in the early 1990s raged through Monroe, damaging the church's roof and breaking its windows. Insurance compensation allowed the replacement windows to be done in a more authentic Byzantine style, further enhancing the appearance of the church.
And in 1992-1993 the exterior of the church building underwent restoration with the addition of a taller, redesigned bell tower, a new portico, new window and door treatments, and a plaster exterior. The landscaping was also replaced, and the whole effect was one of renewal, a preparation to enter the post-immigrant phase of the parish's history in the new millennium.
The end of 2001 saw the retirement of Father Buss after over twenty years of service. For the next six years the parish was served by priests from Jackson and Shreveport on a monthly and bi-weekly basis, and conducted lay services in their absence. In November 2007, His Eminence, Metropolitan Alexios assigned us a new permanent priest, Fr. Dimitrios Leussis, marking the resumption of a regular worship schedule.
Though old-style immigration has largely ceased, the church ministers today to a different sort of immigrant: expatriates from Shreveport and Boston, Orthodox from many national backgrounds–Greek, FYROM, Russian, Ukranian, Serbian, Arabic, as well as Americans of European, African, and Asian ancestry. The church also serves as a spiritual beacon to Orthodox students from Greece, Cyprus, and the Middle East. It offers them a place to worship, to congregate, to feel a little less far from home.
With more than half a century behind it, Saints Constantine and Helen Greek Orthodox Church now looks to the future. Its 2000-year-old Orthodox services are partly in English now, its congregation a comfortable ethnic mix, its outlook decidedly American. Yet this Orthodox spiritual home in northern Louisiana remains true to its original character: a small outpost of the Church of the Christian East ministering to an ever-changing flock of faithful.